Price $40.00 (U.S.D.); please add $4.00 for domestic postage, or $6.00 for international postage.

The Authors: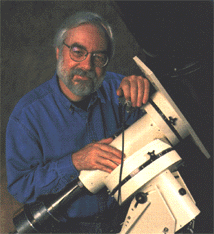 Terrence Dickinson with one of our Astro-Physics Model 1200 German Equatorial Mount.
Terrence Dickinson: a leading astronomy writer is the author of fourteen books. He has received numerous national and international awards for his work, among them the New York Academy of Sciences book of the year award and the Astronomical Society of the Pacific's Klumpke-Roberts Award for outstanding contributions in communicating astronomy to the public. In 1994, asteroid 5272 Dickinson was named after him. In 1995, he received the Order of Canada, the nation's highest civilian achievement award. A former editor of Astronomy magazine, Dickinson was an instructor at several science museums and planetariums in Canada and in the United States before turning to science writing full time in 1976. His articles have appeared in many magazines, and he writes a weekly astronomy column for The Toronto Star and a consultant for the Canadian Discovery Channel. He also teaches astronomy part-time at St. Lawrence College, Kingston, Ontario.
Dickinson traces his interest in astronomy back to the age of 5, when he was fascinated by the sight of a bright meteor. At 14, he received a good quality 60mm refractor telescope as a Christmas present and since then has owned more than 20 different telescopes. Today, he observes under sixth magnitude night skies, and enjoys astrophotography (having taken most of the pictures in his "Nightwatch" book from his backyard). He lives near the village of Yarker, in rural eastern Ontario where he enjoys dark night skies above his backyard roll off roof observatory crammed with telescopes and astrocameras.
Terrence is most familiar to amateur astronomers for his books including:
Nightwatch A Practical Guide to Viewing the Universe; Firefly Books, revised edition September 1999.

Exploring the Night Sky: The Equinox Astronomy Guide for Beginners; Camden House, 1988.

Exploring the Sky by Day: An Equinox Guide to Weather and the Atmosphere; Camden House, 1988

The Universe and Beyond (Third Edition): Camden House, 1999
Alan Dyer a writer/producer of science shows for the planetarium theater at the Alberta Science Centre in Calgary. A former associate editor of Astronomymagazine, Dyer is widely recognized as an authority on consumer telescopes, and his evaluations of equipment, and consumer buyers guides have appeared regularly in Astronomy. He is an experienced astrophotographer, and a frequent speaker at star parties and astronomy conferences. His planetarium programs have played in theaters throughout North America.

Dyer recalls, as a child asking his parents permission to stay up late to watch the stars. At 15, using money earned he purchased his first telescope. He has since owned examples of many telescopes on the market. he now prefers high quality optics of moderate size that he can use at a moments notice from his rural home in the big sky country of southern Alberta.