Baader Planetarium Mark V Großfeld Binocular Head
Overview The Baader Mark V Großfeld (wide field) Binocular Head is an accessory that provides a more comfortable view for an observer by permitting experienced or inexperienced observers the comfort of viewing simultaneously with both eyes. It takes the light coming from a telescope and then splits it in about equal portions, then moves the light cone out and up into the human eye. The images seen in this binocular viewer can be breath taking, producing a view that is unrivaled by other similar binocular viewers in terms of contrast, clarity, and uniform distribution of light. But the most mesmerizing aspect of this device is how the objects observed often appear quite "three dimensional". The binocular viewer is particularly desirable for observing the planets, moon, and sun (with a telescope suitably equipped), and depending on the qualities of the telescope for observing some of the brighter "deep sky" objects. We have been surprised how many owners of "light buckets" are adapting their telescopes to reach focus with the Binocular Head.
Right: the business end of the Baader Mark V Binocular Head shown here with optional Carl Zeiss Abbe Orthoscopic 16mm eyepieces (86,195 bytes).
Click on image to see a higher quality, enlarged view (184,336).
Origin of the Mark V The binocular viewer which the Baader Mark V improves upon was one of the few which were engineered for astronomy from the ground up; most other prior models having been adapted from microscopes and those were not all that successful. The Mark V system was engineered and first manufactured entirely in house by the most capable optics house in the world under their trade mark Carl Zeiss of Germany; one can see one of these in the museum collection of Company Seven's showroom. Since the reunification of East and West Germany, the 1990's brought about some reorganization at Carl Zeiss and the production of amateur oriented telescopes was suspended. Baader Planetarium of Mammendorf, Germany arranged to buy the castings used by Zeiss, then contract Zeiss to make the optics in what would be basically the same Baader Binocular Viewer. In the USA this prior model and its current successor described herein are sold by and Astro-Physics and by their only full line retailer Company Seven.
Standard features of the Baader Binocular Head still include:
optics made by Carl Zeiss Jena capability to fully illuminate the full field of any 1.25" eyepiece
Glaspath Compensator

thread into forward barrel of Binocular Head
eliminates slight color error and spherical aberration naturally introduce by prism beam splitter into the light path of all binocular viewers. You can now enjoy wide-field, low-power views of deep-sky objects, as well as high powers
has proved to be essential for telescopes with fast focal ratios
elements designed by Roland Christen of Astro-Physics
Baader Planetarium was the first to introduce this feature for the binocular viewer
choice of three lenses

factor 1.25x - alternatively installs before the Baader 90 degree prism diagonal to provide 1.45x
factor 1.70x - can be installed before the Baader 90 degree prism diagonal for 2x
factor 2.60x

each lens includes precisely made Teflon centering ring, and case

easy Interpupilary Distance adjustment spans from 55mm to 75mm
Interpupilary Distance indicated by engraved marks and numbers
Interpupilary Distance settings can be read under red light
changing the Interpupilary Distance does not alter focus
provided ready to use with fittings for either straight through or 90 degree angled observing position
The Mark V improves upon the prior models in several regards:
Optics:

incorporate 30mm prism systems, the most complex in their history of making Binocular Heads
improvements realize an increase in light throughput by 8.9% from previous models

new high throughput multilayer Zeiss antireflection coatings on all air glass surfaces
the coatings are now carefully matched to the index of the glass used for the prisms
coatings allow maximum transmission at 510nm - exactly where the dark accommodated eye has its maximum sensitivity at night
transmit a true, natural color balance across the remaining visual spectrum

new Beam Splitter provides more uniform light distribution
new Baader Planetarium "T-2 90 Degree Angled Zenith Prism Diagonal

Mechanics: most notably each eyepiece holder now incorporates:

microfocusing collar on each clamp acts as fine diopter adjustment

collar provides 8mm focus travel enabling independent eyepiece focusing
can eliminate frustration with telescopes prone to mirror shift with conventional focus control
focus action happens with the clamping mechanism unlocked, and mircofocusing collars moving upward

Symmetric diopter adjustment:

right hand collar rises with counterclockwise action
left hand collar rises with clockwise motions

eyepiece holders now precisely centers the eyepiece in place
each eyepiece holder incorporates a clamp lock mechanism similar to that on CNC milling machines

each clamp is comprised of seven precision machined components
a 20 degree turn of the lever ring locks or unlocks the eyepiece
non marring pressure blocks made of durable HTC Polyamide
accepts and holds all 1.25" barrels regardless of weight
accepts all 1.25" barrels regardless of barrel safety grooves

Baader Planetarium "Lens" logo position on each clamp indicates open or closed
mechanisms permit very quick and secure changing of eyepieces
The Baader Binocular Head as provided by us includes a number of options that can be ordered separately. This includes the Baader Planetarium T-2 90 Degree Prism Mirror commonly known as a diagonal prism in the USA. The Baader T-2 Maxbright is a ruggedly constructed, all metal modular component where an adapter is needed for the incoming as well as the outgoing aspects. And so we also provide a 2 inch male nosepiece machined by Astro-Physics, this is antireflection machined and finished and it accepts thread in 48mm filters. And to permit the quick installation or removal of the Baader Mark V Head we include the Baader T2i Quick Change Adapter, with Zeiss micro bayonet female mount.
So the arrangements provide for viewing through the Mark V Binocular Head for either:
1. straight through: T2i Quick Change Adapter with 2" Nosepiece installed directly
2. 90 degree angled: T2i Quick Change Adapter on T-2 Prism, with 2" Nosepiece installed on intake port of T-2 Prism
Above: Baader Mark V Binocular Head with provided Baader 90 Degree Angled Zenith Prism (98,956 bytes).
Click on image to see a higher quality, enlarged view (153,175).
Left: to better understand the numerous possible viewing attachments and how they go together with the Baader Mark V Binocular Head to use the head with a variety of telescopes click on the icon at left to download the drawing (121,856 bytes in Adobe .pdf).

Chart also includes list of common attachment hardware and their part numbers.

Recommended Accessories
Eyepieces (in matched pairs): the TeleVue 19mm or 24mm Panoptic series eyepieces have been the particular favorites of our binocular viewer customers. Note that the 24mm Panoptics have a Field Stop diameter of 27.14 mm as measured by us, this is wider than almost every other 1.25 inch ocular! For higher magnification applications we generally suggest you consider the Carl Zeiss Abbe Orthoscopic, TeleVue Radians, Astro-Physics Super Planetary Series Eyepieces. You may do best to call us and discuss your particular requirements.

Color Filters: 48mm thread in filters will be available from Baader Planetarium and other premium makers at Company Seven. These will be optically polished as are the Moon & Skyglowfilters. Note, however we do not recommend using 1.25" eyepiece filters on each eyepiece since they will add additional length to the eyepiece barrel and require additional backfocus so they may not work with some telescopes.

Astro-Physics Convertible Barlow (BARCON)
1.75x Glaspath Compensator (BP4B)
2.6x Glaspath Compensator (BP4C)
48mm Moon & Skyglowfilter (BPMS2)
Accessories from the Baader Planetarium FFC System

Backfocus (In-travel) Requirements
Backfocus (also refered to as in-travel) is the difference between where the light focuses and the back of the focuser needs to be. The back focus requirements will vary depending upon your configuration. Please note that this viewer may not reach focus with some instruments, including some earlier models of our refractors. Determine the back focus of your instrument by measuring the distance from the 2" opening of your scope to the focus point.
Binoviewer with 1.25x Compensator, 2" Nosepiece and Convertible Barlow - needs 0.6" in-travel
Binoviewer with 1.25x Compensator, Prism and Convertible Barlow - needs 1.8" in-travel
Binoviewer with 1.25x Compensator and 2" Adapter - needs 3.5" in-travel
Binoviewer with 1.25x Compensator and Prism - needs 4.5" in-travel


Binoviewer with 1.70x Compensator, 2" Nosepiece and Convertible Barlow - needs 0.7" out-travel
Binoviewer with 1.70x Compensator, Prism and Convertible Barlow - needs 0.55 " in-travel
Binoviewer with 1.70x Compensator and 2" Adapter - needs 2.25" in-travel
Binoviewer with 1.70x Compensator and Prism - needs 3.25" in-travel


If you do not use the 1.25x compensator, the backfocus is increased by 1.25x in all configurations
Binoviewer with 2" Nosepiece and Convertible Barlow - needs 0.9" in-travel
Binoviewer with Prism and Convertible Barlow - needs 2.25" in-travel
Binoviewer with 2" Adapter - needs 4.4" in-travel
Binoviewer with Prism - needs 5.6" in-travel
BAADER 90 DEGREE ANGLED ZENITH PRISM SPECIFICATIONS
Measured by Company Seven with 2" Nosepiece and Bino Head Bayonet Adapter
Weight
Aperture in
Aperture out
7.9 oz / 225 g
38.04 mm
32.82 mm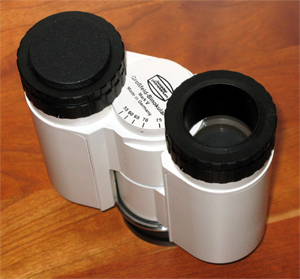 Right: the business end of the Baader Mark V Binocular Head shown here with one eyepiece port cap on, the other port open (74,688 bytes).
Click on image to see a higher quality, enlarged view (189,706).
MARK V BINOCULAR VIEWER PRICE AND AVAILABILITY
This premium accessory is distributed only direct from Baader Planetarium in Europe, with sales in the Americas by Astro-Physics and Company Seven. You may see a unit on display at Company Seven.
These are time consuming, costly items to make with demand historically outstripping supply. Once you enter our special order list, plan to wait anywhere from six months to a year or more to receive your new Mark V Binocular Head; it is never likely that these will become "off the shelf" inventory. Company Seven is accepting orders for future delivery and you may refer to our on line price list for current prices. We are giving some priority to those whom we know will appreciate them most, and we will not accept orders from those who have demonstrated a penchant for "scalping" products at inflated prices on the resale market.
CLEANING & MAINTENANCE INSTRUCTIONS
please refer to our article "How to Clean Optics on $500 or Less" for more advice
It is best to protect Binocular Viewers from shock, vibration, dust and dirt. When not in use, store in a padded case. Keep the provided lens and eyepiece port covers in place.

Do not pack it into an airtight container or store it away with covers on when wet (from dew, etc.) for long periods of time. Before storing for an extended time let it "dry out", and then store it in an air conditioned room ideally alongside desiccant in order to reduce the potential for contamination or the development of fungus.

Do not ever disassemble a Binocular Head.

Draw any loose bits of foreign matter from the exposed lens surfaces with an air bulb or small vacuum. Stubborn particles may be removed with a soft camel's hair brush such as the Staticmaster™ which we stock.

To remove contaminants such as finger prints or eyelash oils, place a few drops of an approved lens cleaning solution such as those made by Kodak, Zeiss, etc. onto a natural cotton swab. Make certain the swab is damp but not dripping wet.

Then gently wipe the lens surface in a circular motion with little or no pressure, surface adhesion should do. Although these optics incorporate durable anti reflection coatings coatings, they can be damaged by hard rubbing if tiny abrasive dirt particles are pressed accross the glass.

You may follow with a wipe using a distilled water wetted swab or tissue.

You may arrange to have Company Seven clean any SPL (or other optic) we sold for little or no fee.

DO NOT USE ANY OTHER CLEANING SOLVENTS OR SERIOUS DAMAGE IS LIKELY TO OCCUR