ASTRO-PHYSICS FOCUSER WITH
FEATHER TOUCH® FOCUSER FOR 105 TRAVELER TELESCOPE
Introduced as option on new production models Summer 2003, retrofit kits in Summer 2004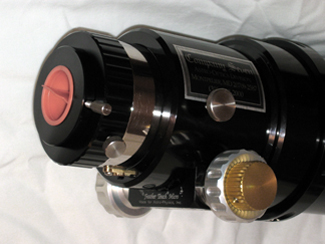 Overview Astro-Physics has developed a new specially designed dual-speed pinion assembly with a 9 to 1 geared reduction knob. Known as the Feather Touch®, it was originally developed by Starlight Instruments for critical focusing and it is now available as an retrofit kit for existing compatible Astro-Physics focusers. Or you can purchase a complete new focuser incorporating the Feather Touch® feature.
The precision mechanical Feather Touch® geared assembly is produced for Astro-Physics by Starlight Instruments. The assembly will fit onto Astro-Physics 2.7 inch focusers (including Traveler focusers) that have the newer-style pinion block (A1034-A). Simply remove the original pinion block assembly, and then bolt on the new dual speed unit. A similar unit will be available for the 4 inch focuser late in the summer of 2004.
Right: Astro-Physics Traveler 4 inch telescope with optional Feather Touch® Focuser Pinion and Gear Reduction Assembly (53,738 bytes).
Click on image for higher quality, enlarged view (151,858 bytes).
This new dual-speed focuser allows very precise manual focusing on our relatively fast Apo lenses. The coarse-focus knobs allow you to rack the drawtube out quickly, and then the fine knob is used to find and hold the final focus point. Ideal for very high powers with short focus oculars and Barlow amplifiers. It will also allow quick, precise manual focusing with CCD cameras. You will love the smoooooooth feel and the very cool reflection of the gold anodized knob on the polished aluminum knob.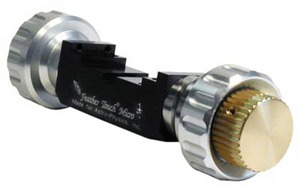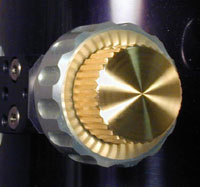 Above Left: Feather Touch® Focuser Pinion and Gear Reduction Assembly (24,150 bytes).
Click on image for higher quality, enlarged view (172,912 bytes).

Above Right: close up view of Feather Touch® Focuser knobs, brass for fine and aluminum larger knob for coarse focus (17,271 bytes).




We recommend this accessory for use by those who do mostly visual astronomy, and manual focusing with imaging equipment. When focus motors are attached to the Feather Touch® pinion, then the dual-speed function can no longer be used. The extra drag of the dual-speed mechanism will result in higher loads and torque requirements for the focus motors. So if you plan to use electric focusing motors and accessories, then we recommend that you stay with the standard focuser with its single speed Pinion Block.

Design Imperatives the Feather Touch® was developed with a few basic goals in mind:
provide easy, precise focus
be easy to install with provided Allen wrench
not confuse the observer at night, focus wheels are easily distinguished even in the dark
require little or no maintenance
made with precisely machined, durable components to insure reliable lifetime of service
The Traveler focuser is virtually identical to the standard Astro-Physics 2.7" Focuser, except that the focuser body which houses the drawtube incorporates an internal thread so that it can be threaded onto the tube. All other construction features and specifications are the same. The new TFOC3E-FT focuser offers critical focusing and a greaseless drawtube. Both of these are attributes that Traveler owners will find appealing. If you ever need to replace the focuser, then simply thread the original one off and the new one on. It's that easy!
If your telescope was shipped new after July 1, 2001 then please consider the Feather Touch Micro Upgrade (27FTMU). If you are not sure, then please review Astro-Physics Focuser Upgrade Program.
Part Number
Description
price
27FTMU
Feather Touch® compatible telescope Retrofit Kit
$248.00
TFOC3E-FT
Complete Traveler Focuser with Feather Touch®
$550.00
*prices and specifications subject to change
The upgraded Feather Touch® Pinion Block will consist of the assembly shown on the left below. The photos on the right correspond show the original assembly.
Above Left Top and Bottom: Feather Touch® Focuser Pinion and Gear Reduction Assembly (24,150 bytes).
Above Right Top and Bottom: the standard, current production Astro-Physics Focuser Pinion Block (17,271 bytes).
Please contact Company Seven with any questions, to see these in our showroo, or for additional information about these products.