Tochigi Nikon 300mm T2.2: Rarest Of The Rare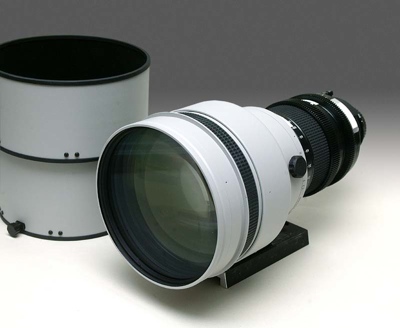 At the turn of the 21st century cinematographers and broadcast companies wanted yet more new 300mm f/2.0 lenses, this in spite of the available pool of mid-1980's production 300mm f/2 ED IF lenses. But the photographic market was in transition to digital and world economic circumstances were volatile, so Nikon management was initially in no mood to manufacture a small quantity of niche products. But even by 2002 there was simply no alternative lens made to equal the Nikon 300mm f/2 ED IF. So when a broadcasting corporation approached Nikon with a proposition to buy a quantity of twenty (20) of the lenses made specifically for them and their affiliates, and at a then incredibly attractive price for Nikon of about $30,000 each, a deal was finally agreed.
Right: the first Tochigi Nikon 300mm T2.2 lens with Lens Hood HK-29-1 and attached Lens Hood Extension HK-29-2 to the side, as produced in 2004.
The painted components of these lenses may be white as in the images here, or may be finished in medium to light gray. Production models seem to have the lens hood bolts painted.
Click on image to see enlarged view (194,292 bytes).
The Nikon Corporation group of nineteen companies operate under control of a President and Board of Directors. The project for the new 300mm lens was negotiated in 2001, and then assigned to the Tochigi Nikon Co. within the Precision Equipment Company of the Nikon Group. Tochigi is a company situated about 75 miles (120 km) north of Tokyo, with about eight hundred employees working at modern facility with a floor area of 470,6952 feet (43,7292 meters). This factory is best known for the manufacture of stepper motors, complex interchangeable lenses, and other industrial optics including the Nikon UV-105 F4.5 Lens lens distributed by Company Seven.
These new 300mm lenses incorporate twelve (12) elements, three (3) of these being ED elements, arranged in a nine (9) group lens design; this includes the protective front optical flat window. The optical arrangement is similar to that of the original Nikkor 300mm F/2 ED IF, and the lens focus is a similar IF arrangement where the lens length overall does not change with focus distance. Theses lenses blend in the features as implemented by Century Optics (then Century Precision Optics) and by Panavision making them well suited for high-speed broadcast video and cinematography. The result was marketed as the Tochigi Nikon 300mm T2.2 though the original literature from Tochigi translates to Tochigi-made 300 mm -2.2 (F 2.0) Lens. The lens is readily distinguished from the Century-modified Nikkor lenses that these are finished in either white or light gray paint with black anodized rear sections, and these lenses bear the "Tochigi Nikon" branding. The first lens of the series is Serial Number 200101, Company Seven's owner has lens SN 200108.
The practical aspects of the Tochigi Nikon 300mm T2.2 that distinguish it from the Nikkor 300mm f/24:
lens aperture readout scale is engraved in T-Stop increments.

A decade after their introduction Nikon Japan informs me these lenses were all originally made with the Arri PL camera bayonet mount however, Nikon literature of 2004 mentions a Nikon F mount too. Unlike the original Nikkor 300mm f/2 ED IF lenses the lens mount of the Tochigi Nikon 300mm T2.2 can be removed and a another mount can be custom-fitted; this should be attempted only by an experienced lens technician with machine-shop support. Thus the user may arrange to exchange the camera attachment hardware from Nikon to Arriflex, or from Arri PL to Canon EOS or Nikon for example. More about this later in this article.

Lens incorporates precision machined spur gear wheels over the focus and diaphragm controls for focus by hand or by other devices.

As with most purpose-built cinematography lenses, the focus control of this lens dials clockwise to change focus from infinity (∞) to near. This is the opposite rotating direction of the focus control on most consumer lenses, and is a feature that even Century could not add to their retrofit versions (above) of these lenses. The distance scale reads only in feet thus eliminating any possibility of a cinematographer or assistant confusing Feet with Meters, as are indicated on conventional lenses.

Two drop in filter slots are provided at the rear, either can accept a 52mm glass or Gel filter or a Nikon C-PL series Polarizing Filter and holder.

Both lens shade sections are completely removable: the lens hood, formerly retracting on the Nikkor 300 f/2 ED IF, is a slip-on arrangement with an extension section5.

The foot of the tripod mounting collar is shorter and more compact to accept a variety of hardware for securely attaching the lens onto various stands or quick-release brackets.
Notes:
4. In terms of optical design the lens, with a Nikon F mount, would be perfectly compatible with the Nikon TC-14C. Note however, there was no teleconverter provided with this lens as was included with the original Nikkor 300mm f/2. I use my own TC-14C, the Nikon TC-201, and more recently made Nikon 1.6x teleconverter.

5. When the lenses were made available for sale they were offered with or without the gray Nikon lens shade. The lens shade was then about a $600.00 (USD) option.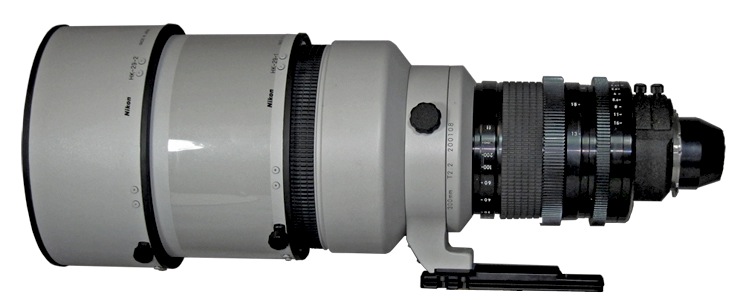 Above left: Tochigi Nikon 300mm T2.2 lens (SN 200108) lens. From lens in collection of Company Seven (41,444 bytes).
Note: this is a new lens, so the Lens Hood HK-29-1 section still has one of protective plastic packing coverings around it.
Click on image to see enlarged view (255,799 bytes).

Above right: Lens shown with optional Wimberley Model AP-652 Dovetail Plate attached in place of Nikon Foot/Interface Plate.
This image conveys a better sense of the Nikon lens body's actual gray tone (73,301 bytes).
Click on image to see enlarged view (127,668 bytes).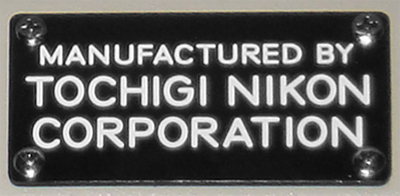 The lenses employed in cinematography are completely manually operated. By means of the gears over focus and diaphragm controls the cinematography team can either operate the lens locally manually, or can automate these functions for operation by remote control. Cinematography is a meticulously planned and well thought-out work, with immense overheads of people and equipment on a location. Because of the pressures on a film production crew to get it right the first time, the camera and lighting operators will have rehearsed the working focus distances, nominal apertures, and filtering, rehearsing these aspects and setting manual queues or programming automated control components so that the lens can be ready for each filming session. Hence, the lens need not be provided with Depth of Field indicators or an Infrared focusing index. As such, even in 2004 when automatic focussing lenses dominated the professional conventional photography market, these Tochigi Nikon 300mm T2.2 lenses were specified as manually operated lenses.
Right: Tochigi Nikon label plaque bolted onto the front of the 300mm T2.2 lens (SN 200108) foot. From lens in collection of Company Seven (41,444 bytes).
The original drawings dated 2002 and the announcement from Tochigi Nikon mentions the Arri PL mount; this is how all lenses were originally commissioned to be made. However, later Fall 2004 literature mentions the availability of at least some lenses with the Nikon F mount. These two appear to have been the only lens mount choices available for the lens from the factory. The lens in our collection arrived with a Arri PL ("Positive Lock") bayonet lens mount, this steel male flange is attached into the rear of the Nikon lens by means of eight bolts. By the time this article was being researched Nikon of Japan was advising these lenses were only delivered with the Arri PL mount; this contradicts older literature. While I have seen several of these lenses shown with Nikon F mount, I have not been able to definitively prove whether or not they came from the factory in that Nikon mount configuration or were modified by a third party after delivery.
The robust stainless steel Arri PL mount is among the more recently developed lens mount standards, first released at Photokina 1982. The PL mount consists of four flanges, any of which can be used to align the mount to a locating pin located approximately 45 degrees clockwise from the top of the camera's lens mount. So the lens can be oriented in any of four different configurations decided by factors including the focus puller position or camera orientation. The mount is locked into place using a friction locking ring which, in conjunction with the four prongs of the flange, creates a very strong lens seating that can deal with the greater stresses placed upon the mount by newer cameras and their associated devices.
Left: Arri PL lens mount bolted onto the 300mm T2.2, its cover is to the side. Note two drop-in filter holders. From lens in collection of Company Seven (52,965 bytes).
Click on image to see enlarged view (258,607 bytes).
Interchangeable lenses and camera systems must comply with their manufacturers lens back focus (flange focal distance or focal plane distance) specification. That is the spacing between the rear surface of lens mount flange ring to the film plane. Compliance with this specification insures the lens will reach focus at all designed working distances from near to infinity. This spacing differs from one makers system to another makers system so when interchanging lenses from one mount to another compliance with this value is critical. The Tochigi Nikon 300mm T2.2 lenses provided with the Arriflex PL mount provide a flange focal distance (FFD) of 52.00mm (2.05 inch), sometimes termed "lens back focus", this is a measure of spacing from the rear surface of lens mount flange ring or the front surface of a camera lens mount back to the film (or CCD sensor) plane.
With the PL standard providing such a comparatively long lens back focus it is possible to buy a camera adapter from third parties that permit the lens to be used onto other cameras. To adapt the lens for other mounts one simply unbolts the Arri PL mount and attaches another suitable spacer and lens mount, or employes an Arri PL to ''x' brand mount adapter. Some companies modify conventional SLR cameras to accept the Arri PL mount lenses, so it is possible to order a Canon EOS camera for example adapted to go right onto this or any Arri PL lens! However, there can be no adapter made to permit the PL lens mount to go onto the Nikon F mount camera body in part because the PL mount has a larger 54.00mm diameter and a depth that can damage the flip mirror in a Nikon camera body. Therefore, to convert the lens it seems one might have to unbolt the PL flange and install a suitable bayonet with a suitable spacer. The Nikon F-mount features a three lug bayonet mount with a 44mm throat and with a flange to focal plane distance of 46.50mm, so in order to comply with this requirement any adapter and lens mount made for this lens will incorporate a machined aspect or spacer that assures proper compliance. For use with a Nikon F Mount for example it appears that Nikon furnished these lenses with a machined spacer that bolts on in place of the Arri mount, then the F Mount is bolted onto the spacer. Many things are possible with these lenses.
For cinematography and other studio work the camera and the lens are usually well supported, attached together onto a rail and camera cradle set. The Arri PL mount is such a strong and reliable mount that those who intend to employ this lens with unconventional cameras, third party scientific imaging systems for example, might do best to buy a female Arri PL fitting and adapt that to fit their camera system. In this way the substantial loads of these systems, camera with color filter wheel and adaptive optics as typically used on a telescope for example, may be better supported than by relying on traditional Nikon or other lens mounts that were never envisioned as managing heavier payloads. The use of a camera and lens support rail should nonetheless be employed whenever practical.
Unlike the original Nikkor 300mm f/2 ED IF lens, the filter holder slots of the Century-modified Nikkor and Tochigi Nikon 300mm f/2 ED IF are positioned behind the lens diaphragm. We find it interesting that that for this production lot these Nikon lenses incorporate a Dual Stage Filter Holder configuration; the lens accommodates two 52mm Drop-in Filter Holders (Nikon Part No. 2459), each with a provided NC Filter threaded in place. The multicoated Nikon 'Neutral Color' filter is similar in its protective aspects to the 52mm L37c type of filter previously issued with the Nikon telephoto lenses. However, the NC filter is engineered for use with modern digital cameras instead of film cameras; the NC filter is not designed to cut longer ultraviolet wavelengths, as was the L37c, since modern digital cameras employ either windows (on CCD) or CMOS sensors made to effectively block UV starting at about 420nm and below. Having the filter in place 1. serves to prevent dust from entering the lens from the rear, and 2. these glass elements maintain the nominal back focus distance that is critical for planning focus of scenes when using the lens in cinematography. For astrophotography or other applications where any fraction of light loss is not desired, one may remove the NC filters altogether from the holders then adjust focus as necessary.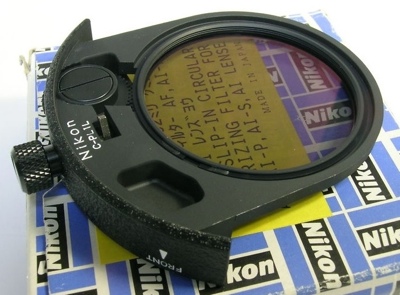 The user can employ in-line any one or two of the standard Nikon drop-in filter holders with a compatible thread-in 52mm filter (as provided), or with a Gel filter holder and filter, or with a Nikon C-PL1L (Part No. 2474). The optional C-PL1L assembly includes the 52mm diameter Polarizing Filter threaded into its drop-in Filter Holder with a mechanism to rotate the filter by means of a readily accessible manual control dial. Installing a C-PL1L filter into each of the two slots would allow the user to vary the attenuation from light to very dark; this may be desired for some special effects such as blurring motion while preserving a comparatively narrow depth of field.
Right: Nikon C-PL1L (Part No. 2474) Circular Polarizing Filter, note textured finish on the top exterior panel (59,188 bytes). In Company Seven's collection.
Click on image to see enlarged view (118,194 bytes).
The protective front window is held in place by a thread-on retaining ring. This ring is thinner and appears lighter weight than that used on the original production Nikkor 300mm f/2 EDIF lens. The original ring has a post style opening to accept cylindrical pin tipped spanner wrench. The Tochigi Nikon 300mm lens retaining ring has two notches that would be serviced by a spanner with a flat blade tipped spanner wrench.
Aside from the practical considerations mentioned before, since these lenses must be adaptable for use with many types of film and digital cinematography cameras, so there is no practical way to make these lens with autofocus that can also communicate back and forth to the many camera communications linkages and protocols.
The Lens Foot of the Tochigi Nikon lens (shown in the image below left) is similar to that of most modern Nikon ultra telephoto lenses. This support platform is a low-profile arrangement that keeps the center of gravity closer to the platform than did the original Nikkor 300mm f/2.0 ED IF and most other large Nikkor lenses. The foot incorporates a matte black anodized interface plate, that is bolted onto the Lens Collar casting by four 4mm x 0.7 bolts. So while at first glance the plate provides the one centered ⅜ inch - 16 tpi threaded center hole, it is the four 4mm bolts of the interface plate that actually bear the load. The 4mm bolts can be removed and the foot interface plate removed to accommodate any number of third party dovetail plates or adapters as needed. Attaching the lens by the one ⅜ inch bolt alone in unconventional uses (astrophotography for example) will not guarantee the lens might not work its way loose and rotate left to right, so we recommend use of an auxiliary plate bolted directly onto the four tapped 4mm holes.
The lens illustrated in this article is provided with a Nikon HK-29 two section slip-on Lens Hood set consisting of HK-29-1 and a HK-29-2 Extension section. The HK-29-1 slips onto the front of the lens and clamps into place, while the HK-29-2 Extension similarly attaches onto the HK-29-1. The hoods are made of carbon fiber with plastic and metal components so both sections combined weigh just under one pound. The interior of each section is lined with black velour to prevent undesirable reflections off these walls. This set is nearly identical to the HK-29 Lens Hood set (P/N 4741) provided by Nikon with the AF-S Nikkor 600mm f/4D IF-ED II (P/N 2133) autofocus lens except the set for the Tochigi Nikon lens is painted gray to match the lens, while that for the Nikon lenses are usually painted black or left showing a carbon fiber twill pattern.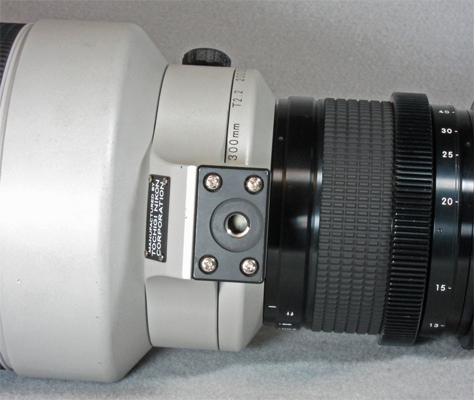 Above: Lens Foot/Interface Plate and Rotating Collar, and to the right is the Nikon HK-29 two section slip-on Lens Hood set (62,972 and 64,097 bytes).
Note: this is a new lens in the collection of Company Seven, so the Lens Hood HK-29-1 section still has one of protective plastic packing coverings around it.
Click on images to see an enlarged view (260,354 and 250,437 bytes).
You might wonder "how is it that a lens hood for a 600mm f/4 lens is provided with a 300mm lens?", well the Nikon engineers came up with a way to employ their existing inventory of production lens hoods rather than design an entirely new unit for this one small production lot of lenses. They simply designed the front of this lens so that it will seat the lens hood further down the barrel from the front. So the lens hood does not protrude any farther forward of the lens than the optical designers suggest it should. By doing this they moderated the cost of the set, and make it easier for the end user to source a replacement lens hood should it ever become necessary. So if you happen to have acquired a Tochigi Nikon 300mm T2.2 lens without lens hood, then you could order the HK-29 Lens Hood set (P/N 4741) that will perform just fine.
The down sides of this lens hood arrangement are practical and cosmetic: 1. it is not possible to retract and store the lens hood on the lens then attach the extension, as could be done with the original Nikkor 300mm f/2 lenses for compact storage. And 2. it is impossible to slide the lens hood onto the Tochigi Nikon 300mm T2.2 lens and clamp this into place without somehow marring the gray paint of the lens. On black finished lenses this wear and tear is usually unseen, but here the gray finish shows everything. We recommend keeping the lens with its lens shade attached in a well made custom fitted case.
The provided slip-on leather Lens Cover with rope drawstring and clamp appears identical to those (P/N 4743) provided by Nikon with the original 300mm f/2 ED IF, 400mm f/2.8 ED IF, and 600mm f/4 ED IF series lenses. Incidentally, to store the lens shade HK-29 with added protection one could purchase a second slip-on leather Lens Cover. Unlike the original Nikkor and Century-modified lenses, no trunk was provided with these lenses instead they were shipped from Nikon in a carton (17 x 10-½ x 10-½ inches) with simple cut polyethylene closed cell foam pads.
The adjustable iris diaphragm in the rear of these lenses are treated to prevent internal reflections off the blades. The lens elements edges are darkened too. So as with the original Nikkor 300mm f/2 ED IF looking into the front of a Tochigi Nikon 300 T2.2 lens leaves one with the impression of looking into a large dark cave.
There is something else that we notice about these Tochigi Nikon 300mm T2.2 lenses that differentiate them from their predecessors; Nikon has learned a lot about improving multi-layer lens coating technology over the past twenty years and these lenses show it! When looking at straight in to the front of these lenses the elements truly seem to disappear. But just to avoid any confusion I point out the Tochigi Nikon 300mm T2.2 lenses were not manufactured with the "Nano Crystal Coating"; they predate this development. This innovative ultra-low refractive index coating differs substantially from conventional multi-later coatings. Originally termed "Nano Particle Coating", this was developed by Nikon engineers Issei Tanaka and Tsuyoshi Murata who demonstrated the first sample to the public at the 2004 Photokina. The coatings were first released in a production lens in 2005, applied to the AF-S VR Nikkor 300mm f/2.8G IF-ED.
The Tochigi Nikon T2.2 clear aperture of the lens front window is 150mm, reduced from the original 152.5mm diameter of the Nikkor 300mm f/2 lens; this results in an aperture area difference between the two lenses of about three (3) percent. It may be that with the improved light throughput of the Tochigi Nikon T2.2 it would be difficult to discern any effective differences.