17 JULY 2003 NEWS: MARTIN COHEN SPEAKS AT SMITHSONIAN INSTITUTION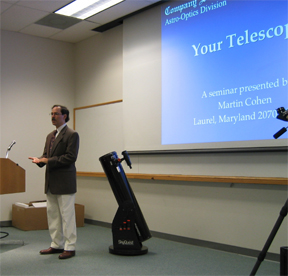 In a very rare public speaking appearance, Martin C. Cohen of Company Seven was among the invited guest speakers to support the Smithsonian Institution Resident Associates Summer Program "Amateur Astronomy: It's All in the Stars … and Comets, Planets, and Moons".
The coordinator and moderator of this series David DeVorkin is curator, Department of Space History, NASM.
Right: Martin Cohen speaking at Smithsonian Institution Ripley Center on 17 July 2003 (63,079 bytes)
The series schedule is for Thursday evenings, beginning at 6:30pm,
at the Einstein Planetarium, National Air & Space Museum, Washington, D.C.
Topics and speakers of the series include:
JUL 10, How to Catch a Comet, David Levy
JUL 17, Your Telescope, Martin Cohen - this session at S. Dillon Ripley Center
JUL 24, Heavenly Bodies' Shape and Motion, David Dunham
JUL 31, Using Cheap Webcams and Freeware, Geoff Chester
AUG 7, Upstairs/Downstairs, David DeVorkin
AUG 14, Following Stars, Janet Mattei
Mr. Cohen's production conveyed valuable information to the audience in such a manner that the novice could easily comprehend the subject, remain focused on the material, and they would retain much of the important information presented. And all the while those experienced astronomers in the audience would find the presentation to be insightful and at times surprisingly fascinating. All in attendance would find this presentation to include moments of amusement too.
Brief Overview of Mr. Cohen's talk:
Introduction
Preface: Eye Safety, and Solar Observing Warnings and Suggestions
The Human Eye And Its Relation to Observing
A Telescope is a Time Machine, Light Funnel
"Telescope 101" Telescope Terms
How A telescope Forms An Image
How the Eyepiece Works with the Telescope
Light Gathering and Magnification
Choosing a Telescope by Function
History, Description, Pros and Cons of Most Popular Optical Arrangements


Refracting
Reflecting
Catadioptric

History, Description, Pros and Cons of Most Popular Mounts


Pan and Tilt
Earth's Motion and the German Equatorial Mount
Fork Equatorial
Computer Controlled

Portability
Basic Accessories
What It Really Looks Like (planets, deep sky objects as they appear visually and in images)
Additional Sources of Information: Books
Regional Astronomy Clubs, Societies
Acknowledgments
Mr. Cohen's presentation involved a fast paced, well illustrated one hundred fifty (150) slide Power Point presentation. This was reinforced with demonstrations of principals employing hardware provided for the seminar by Company Seven. Mr. Cohen spoke for two hours, with another thirty minutes provided for answering questions, and study of the demonstration instruments by those in attendance.
The display of astronomical instruments provided included:
Questar 3-1/2 Standard Telescope (Catadioptric)
Astro-Physics 92mmf7 Apochromat Telescope (Refractor)
Orion XT-8 Dobson Telescope (Reflecting)
Prototype NASA 20" Classical Cassegrain OTA of carbon fiber composite construction (complete weight five lbs.)
Selection of popular accessories
The seminar closed at 9:00 pm. The talk was well attended, and no one seemed to fall asleep, and no one walked away during the talk.