UPI BREAKING NEWS, BALTIMORE, MD: KIM JONG-UN IN UNANNOUNCED VISIT TO THE USA

The normally reclusive Kim Jong-un, leader of The Democratic Republic of Korea, slipped into the USA for a personal visit

It has only leaked out today, some weeks after the event, that what must certainly be counted as a major embarrassment to the US Government has occurred. The leader of a foreign government and his entire entourage have slipped into the USA with no advance notice and bypassing US Customs and Immigration at Baltimore-Washington International Airport (BWI), to visit a friend. The White House has yet to comment. Calls to the United States Department of State were referred to spokeswoman Victoria Nuland who at first was unavailable for comment, but whose assistant suggested this was a domestic matter and referred this reporter to U.S. Immigration and Customs Enforcement. It was there that Gillian Christensen, Deputy Press Secretary at U.S. Immigration and Customs Enforcement (ICE), attributed the oversight to manpower shortages resulting from the sequester of funds that has adversely impacted manpower levels. Reporters have been trying to contact Stephen Dearborn, the Port Director of Customs and Border Protection Field Operations Office Baltimore for corroboration, but he has been unavailable for comment reportedly having been recalled to Washington, D.C. for discussions with members of Congress that have oversight responsibilities.
---
In a story that is still developing, it appears that on Sunday 2 March 2013 a chartered Airbus A330 commercial passenger jet landed at Baltimore-Washington International Airport, then taxied to a parking pad nearby the General Aviation Terminal. There a group of passengers disembarked onto a charter bus, that then simply drove past a routine checkpoint gate and off the tarmac. As incredible as this may sound, the jet apparently carried none other than Kim Jong-un and much of the Democratic People's Republic of Korea leadership, apparently in for a personal visit and some sight-seeing.
An amateur photographer who contributes images to publications and Airliners.net happened to observe the arrival of the aircraft, and positioned himself at an area near the cargo terminals to capture the images below. The photographer, who prefers to remain anonymous for reasons of personal safety, explained "I saw the airplane come to a stop, and a stairway was rolled up to to the aircraft. There did not seem to be any unusual activity, I thought is was a routine charter brining back American soldiers from overseas. I observed a pilot, maybe it was a pilot, walk down apparently looking for the bus or someone to meet him. While that was going on some people came out onto the top platform of the stairway, one of them was in a long black overcoat; when he saw me in the distance he stopped as he reached the first step then tuned to smile and wave at me. That's when I took the second photo (below). But as I was trying to change lenses to get a closer view a Maryland Transportation Authority Police car pulled up behind me, when the man in the black overcoat saw the police car he disappeared back into the airplane."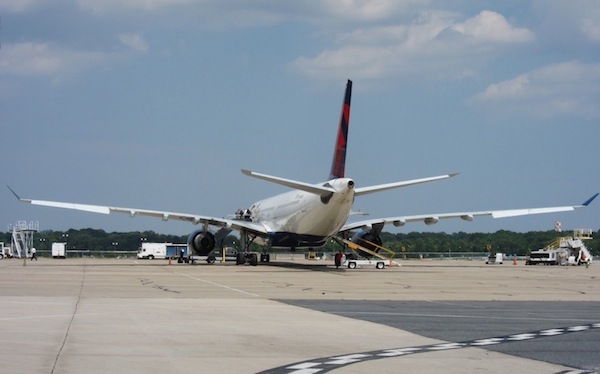 Above: photo images taken by a amateur airplane photographer at the tarmac fence line show the chartered A330 parked at a remote area of BWI (51,099 and 67,328 bytes).
It appears to be Kim Jong-un waving to the photographer in the photo at right. Moments after the second photo was taken, the MTA Police arrived and evicted the photographer!
Apparently the Maryland Transportation Authority Police let slip an opportunity to actually apprehend Kim Jong-un and his entire leadership entourage. But this was not to be since just moments after these photos were taken, and before the chartered bus arrived, Maryland Transportation Authority Police officers arrived and ordered the photographer away. When the photographer explained he thought it was Kim Jong-un on the aircraft, the MTA Police subjected the photographer to a sobriety and breathalyzer tests, then sent him on his way with a stern warning. This led some to speculate the Maryland Transportation Authority Police may have actually been complicit in aiding and abetting the illegal entry of Jong-un and his entourage.
When interviewed by the agents of the Federal Bureau of Investigation looking into the matter, MTA Police Chief Michael Kundrat explained "We had nothing to do with Mr. Un's visit. Furthermore, it is not our job to do Immigration's work. But if some civilian exceeds a speed limit, or parks illegally or gets too close to my fence line then they're in a heap a trouble".
"passengers disembarked from the aircraft to board a waiting bus, with many of them wearing bemedaled military uniforms,
nobody thought to ask if they spoke English."
As explained by a watchman at a nearby gate between the tarmac and the public roadways, it is a common occurrence to have such large charter flights arriving from war zones brining home US troops. As he explained to this reporter "so when the passengers disembarked from the aircraft to board a waiting bus, with many of them wearing bemedaled military uniforms, nobody thought to ask if they spoke English. I just waved their bus through".
The Supreme Leader Kim Jong-un apparently met the reclusive M. Cohen, the Field Marshal General for Life and Beneficent Dictator of Company Seven, through their secret social networking site (Kadoo.com). It seems that at least M. Cohen has some ownership stake in Kadoo, and may have been funneling funds from the Kim family to that, as well as to help other startups (Facebook, Google, etc.) over the recent two decades. This could make these two men among the wealthiest in the world.
As Cohen explained, "it was Kim's idea to meet, but since I could not attend the annual Kim family get-together in Geneva (Switzerland), I consulted the famous and imaginitve author Tom Clancy, a customer and acquaintance for some years, for ideas about how Kim and I might be able to meet. So I suppose you can say the idea to fly Kim Jong-un into BWI on a charter jet in broad daylight on a Sunday is something right out of a Tom Clancy novel".
Upon arrival in Laurel, Maryland Kim and his entourage were treated to a private tour of Company Seven. Unfortunately none of the "regular" customers were told in advance and they missed the opportunity to meet Kim; this necessitated by the need to maintain security during the visit. They arrived at the Laurel, Maryland showroom of Company Seven that houses a selection of fascinating astronomical telescopes. Kim explained he was impressed most by the large Astro-Physics 206mm EDF Apo telescope, commenting "that is much more impressive than meeting Dennis Rodman!"
Right: Kim and his higher level entourage pose at Company Seven's showroom just in front of the Astro-Physics 206mm Apo telescope (145,370 bytes).
"that is much more impressive than meeting Dennis Rodman!"
Kim Jong-un and his entourage spent several hours at the showroom, stocking themselves with: Astro-Physics and TeleVue telescopes, TeleVue eyepieces, Lunt and Solarscope hydrogen-alpha (solar) telescopes, books and star charts, and numerous Zeiss and Leica binoculars. Showroom surveillance video confiscated by the FBI appears to show these items being paid for by Golden Eagle Coins still sealed in U.S. Mint tubes; M. Cohen is overheard on the video teasing Kim that Company Seven no longer wanted to be paid in those stacks of freshly printed U.S. one hundred-dollar ($100) bills from North Korea.