"Build Your Own Telescope

Complete Plans for Five Telescopes You Can Build With Simple Hand Tools"
by Richard Berry

Hardcover - 286 Pages, Second English Edition (1985, revised 1994) Willmann-Bell; ISBN: 0943396425
Dimensions (in inches): 11 x 8.44 x 0.91
Other Available Editions: None at Company Seven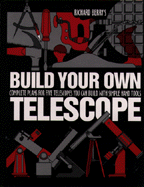 Click on image at left to view enlargement (83,295 bytes)
"Build Your Own Telescope" is one the first books which Company Seven recommends to those persons who are considering the decision of whether or not to build an astronomical telescope, or who have decided to build a telescope. In clear, step-by-step instructions, author Richard Berry explains how to build five telescopes: from a simple reflecting telescope suitable for a parent with a small child, up to a "research-grade" 10 inch telescope capable of sustaining a lifetime's interest in astronomy. Detailed instructions include complete plans and photographs that show how to construct a capable telescope with ordinary household tools and materials. We also suggest this for use in guiding children who are doing such a task as a science fair project. It is written and illustrated so that anyone between a teenage novice to the adult amateur astronomer will find the book interesting, and helpful.

This book includes complete plans, step-by-step instructions with 275 illustrations that show you how to build these five telescopes:
4 inch aperture f/10 Reflector: A sturdy and easy-to-use telescope that is perfect for beginners or as a parent/child project.

6 inch f/8 Dobsonian Reflector: A light, compact telescope that is simple to build, but powerful enough to satisfy a backyard observer for many years.
6 inch f/8 Equatorial Reflector: A classic design for the amateur astronomer or craftsman who wants an elegant telescope and great performance.
10 inch f/6 Dobsonian Reflector: A powerful and versatile telescope suitable for casual stargazing or for a serious amateurs long-term observing programs.
6 inch f/1 5 Refractor: A large refractor that outperforms commercial telescopes of considerably larger aperture.
Some Reviews:
"'Please send me plans for making a telescope." So write many enthusiasts eager to begin observing but unable to buy a commercial instrument. There are already several books on just this topic, usually giving an outline which you can then flesh out according to the materials available.
"This book takes a different approach. It gives very specific nut and bolt instructions for making five separate telescopes. If you want, you can build any of them precisely as instructed, or you can adapt the designs as you please...
"The designs include many novel features, such as the use of silicone rubber cement to secure mirrors. The text is exemplary in its clarity and readability-praise that I don't bestow lightly I recommend it without reservation,
- Robin Scagell, reviewed in the
Journal of the British Astronomical Association
"Subtitled 'Complete Plans for Five Telescopes You Can Build with Simple Hand Tools,' this book is just that, with designs ranging from a simple but elegant 4.25-inch reflector (designed for an eight-year-old) to a beautiful 6-inch refractor. It assumes that you will buy commercial optics, but there is a section on homemade optics as well. Highly recommended!"
-Geoff Chester, Smithsonian Institution, Washington, D.C.
"Richard Berry is to be congratulated for compiling this fine well-illustrated book. Most books about telescope making do not include telescope plans, and many assume that you have access to a machine shop in order to make a mounting. Richard shows ways to make mounts with common tools and hardware store materials. I only wish that this book had been available when I was a teenager building my first telescope."
- Richard J. Wessling, reviewed in The Strolling Astronomer,
Journal of the Association of Lunar and Planetary Observers
Table of Contents:
Introduction
1. Which Telescope is for You?
2. How Telescopes Work
3. Telescope Mountings
4. Building a 4" f10 Reflector
5. Building a 6" f8 Dobsonian Reflector
6. Building a 6" f8 Equatorial Reflector
7. Building a 10" Dobsonian Reflector
8. Cells, Spiders, Focusers, Finders, and Eyepieces
9. Home-brewed Optics
10. Optical Testing




11. Observing with Your Telescope
12. Exploring the Deep Sky

Appendix A:
Telescope Materials
Appendix B:
Materials, Suppliers, Books, and Resources
Appendix C:
Exemplary Telescopes

Index
Price $25.00 (U.S.D.); please add $4.00 for domestic postage, or $6.00 for international postage.

The Author:

Richard Berry: an amateur astronomer and telescope maker for as long as he can remember. He ground his first telescope mirror at age 13, and has since completed over a dozen telescopes. After two years building payloads for launch aboard Black Brant research rockets, he completed his M.Sc. degree in Astronomy and joined IntraSpace International, Inc. as Project Engineer in charge of testing and certifying flight worthy key components of Apollo-Soyuz experiment MA059, the first measurements of atomic oxygen and atomic nitrogen at spacecraft altitudes.

Returning then to his interest in amateur astronomy, Berry joined the staff of Astronomy magazine. In his sixteen years as the editor of Astronomy, he built the magazine from a struggling newcomer to the largest-circulation astronomy magazine in the world. He also founded Telescope Making, the quarterly journal behind many of the breakthroughs that made the 1980's such explosive years in the growth of amateur astronomy,

In 1981, Richard Berry received the Clifford W. Holmes Award for contributions to the advancement of amateur telescope making, and subsequently the Astronomical Society of the Pacific's "Dorothea Klumpke-Roberts Award" for outstanding contributions to better public understanding and appreciation of astronomy, and the "Omega Centauri Award" of the Texas Star Party for furthering astronomy and amateur telescope making through his writing, editing and teaching. In addition, the International Astronomical Union has honored his work by designating Asteroid 3684 as Berry.

Richard is most familiar to amateur astronomers for his books including:
Discover the Stars; Crown, 1987.

Telescope Optics: Evaluation and Design (Editor); Willmann-Bell, 1988

Introduction to Astronomical Image Processing; Willmann-Bell, 1991

Choosing and Using a CCD Camera: Willmann-Bell, 1992

The CCD Camera Cookbook; with Veikko Kanto and John Munger: Willmann-Bell, 1994


Contents Copyright 1994-2000 Company Seven All Rights Reserved